Paul J. Schwab, III, Esq.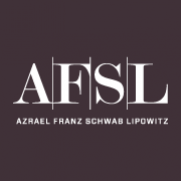 Azrael, Franz, Schwab & Lipowitz, LLC
Law
101 E. Chesapeake Avenue
5th Floor
Towson MD, 21286
410-821-6800
410-821-1265 (fax)
Azrael Franz concentrates in personal injury, wrongful death, commercial litigation, fraud litigation, business transactions, estates law and real estate law. The firm, established in 1949, has achieved a prominent reputation in the field of complex injury/wrongful death, including airline crash litigation, assuming a lead role in multi-district litigation. The firm also aggressively pursues corporate and healthcare fraud litigation, computer litigation and class actions throughout the United States in arbitration and court proceedings resulting in substantial recoveries for its clients. The firm counsels developers, banks, professionals and businesses on a wide range of legal issues, including mergers, acquisitions, estate planning, employment discrimination and family law.