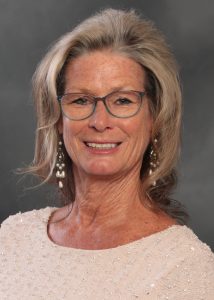 Nancy Hafford, Executive Director
Executive Director Nancy Hafford has been associated with the Towson Chamber (formerly known as the Towson Business Association) for over twenty years.  She served on the Board of Directors for a six-year term that culminated in her becoming President in 2004 and accepted the Executive Director position in 2007.
In 2019, the Towson Chamber hosted more than 100 outdoor events in our community, including Feet on the Street (weekly Friday night concerts), Towsontown Spring Festival, Gardens Day, Towson Farmers Market, Baltimore County Christmas Tree Lighting and WinterFest. The Towson Chamber also assists with the Towson Area 4th of July Parade.  These events bring over 500,000 people to our community each year.
Some of the projects she has been involved with are, Feet on the Street concerts, held on Friday nights in the summer, contribute to the quality of life experienced in Towson, bringing together people in a community block party with an emphasis on fun for the whole family.  Ms. Hafford helps to organize two "Clean-up Days" a year with the Greater Towson Committee on Community Affairs (GTCCA) and students from Towson University to beautify the streets of Towson, hang 90 flower baskets and mulch 100 tree wells beautifying the Towson business area. In conjunction with that effort, she reaches out to the Baltimore County Detention Center to help with rehabilitating inmates through the work release program.  She personally supervises them in various projects.  She works closely with Towson University to obtain interns for the Chamber office with the goal of teaching the value of working within and developing community relations.
She is a strong advocate for fairness in business development with sensitivity towards the needs and wants of local communities. She also supports the Maryland CASA Association's teams each year at the annual Baltimore Running Festival, preparing food to 150 runners.
Nancy also serves on the Baltimore County Planning Board, Baltimore County Tourism Council, Baltimore County Personnel and Salary Advisory Board, the Baltimore County Public School Superintendents Business Advisory Council and was the first women officer of the Towson Elks in 100 years