Whole Foods Planned for Towson Row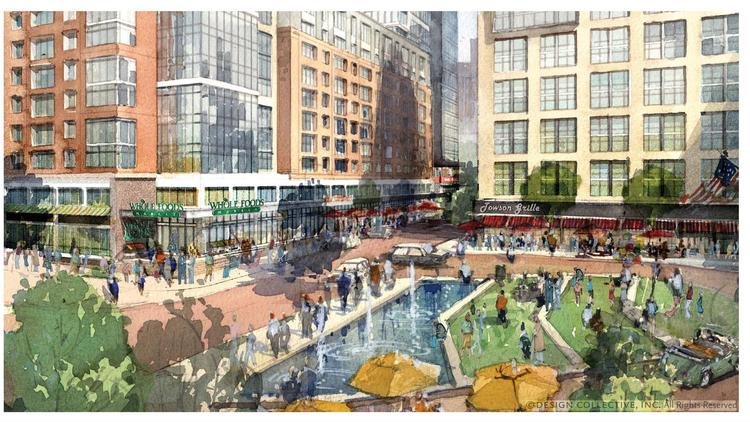 Whole Foods is to be the anchor tenant for the $350 million Towson Row development. (courtesy of Baltimore County)
Whole Foods Market plans to locate its first Baltimore County store at the new Towson Row redevelopment opposite the library in downtown Towson, officials said Wednesday.
The grocer, which launched 13 new stores in the three months that ended Sept. 28, did not say when the 45,000-square-foot location would open. Developer Caves Valley Partners, a Towson-based firm, said it plans to start demolition work for the redevelopment next year.
"We are thrilled to bring this premier tenant to its first Baltimore County location and we are confident it will be a game changer for all of Towson," CVP partner Arthur Adler said in a statement.
Whole Foods is the first tenant announced for the $350 million Towson Row, a 1 million-square-foot mixed use project located on five acres bounded by York Road, Towsontown Boulevard, and Washington and Chesapeake avenues.
Plans for the development, one of a number expected to increase the density in downtown Towson, also call for 350 apartments and condos, 300 units of student housing, about 200 hotel rooms and more than 100,000 square feet of shops and restaurants.
Austin-based Whole Foods has 401 stores, including nine in Maryland. The Towson lease was one of 12 recent deals described in the firm's quarterly results, released Wednesday. The firm reported net income for the period increasing from $121 million last year to $128 million this year.
"The people of Towson have been asking for a Whole Foods Market for some time now – and we're excited to make it a reality," said Scott Allshouse, Whole Foods Market Mid-Atlantic regional president.
In the Baltimore area, the Towson lease is not the only sign of expansion for the brand. Developer John Paterakis Sr. said last year that a bigger Whole Foods store is planned for a Central Avenue site in Harbor East, anchoring a residential project.
Whole Foods has not confirmed the plans, but city's Board of Estimates on Wednesday approved $22,930 for a traffic study for "Whole Foods BCI Lot Redevelopment at 711 South Central Avenue."
For more information, please visit The Baltimore Sun