Chamber of Commerce Developing Smartphone App for All things Towson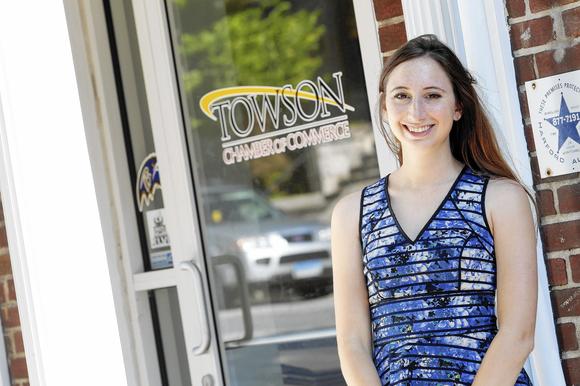 Brooke Bianchetti, assistant to the executive director at the Towson Chamber of Commerce, is working on a new app for the chamber's website. (Photo by Matt Hazlett, Baltimore Sun Media Group / July 28, 2014)
In the next few months, it will be a snap to find entertainment news and venues in Towson thanks to the Towson Chamber of Commerce. The chamber is developing an online application, a one-stop shop of everything you want to know about what's happening, who's doing it and how to get there in downtown Towson.
The application, downloadable for smart phones and android devices, will be free to users and to the businesses, chamber members or not, that will be in it.
Brooke Bianchetti, assistant to the chamber executive director, is designing the app.
"We expect to launch it in the next two to three months," she said of the approximately $10,000 to $12,000 project.
The chamber is in the process of picking a local company to develop Bianchetti's design. The app will take users to businesses and/or their websites. The information on the app will be updated at least once a week. Businesses can upgrade their connection to the app with advertising, the price still being determined.
Bianchetti referred to the Ocean City, Md., app as the type of design she is aiming for. A navigation bar at top leads to a colorful mix of arts and bars, sports and events. Likewise, the chamber app will have art and cultural events, movies, restaurants, sports, hotels, nightlife, activities at local colleges and directions to parking.
Incongruous as it seems, the app will also have information about and directions to the Baltimore County Circuit and District courts. "From Monday to Friday, the most frequently asked question is where are they," said chamber Executive Director Nancy Hafford, "so they'll be on it, too."
The entertainment app, so far without an official name, was inspired by this past spring's Towsontown Festival. For the first time, the chamber produced an app, designed specifically for that two-day event in May. Much to the chamber's surprise, nearly 500 people downloaded the app, an unqualified hit.
"We saw what a huge success it was not only for festival-goers but it was great for our sponsors," said Hafford. "It turned out to be a wonderful tool for this new technology-savvy generation. They got most of their information about the festival by looking at their phones."
Deb Moriarty, vice president of student affairs at Towson University, said that the university was considering developing its own app, in addition to its events website that lists speakers, concerts, arts and athletics activities. Now, it doesn't have to.
"The idea is for the chamber app to link to our website," she said. "It's a way for Towson University to let a broad audience know what is happening on campus."
Rob Horney, manager of The Greene Turtle, a restaurant on York Road, was equally enthusiastic. "It gives us an opportunity to highlight our daily menu, special packages and discounts," he said.
Horney pointed out that several Baltimore City neighborhoods maintain their own entertainment apps. "Linking all the businesses in Towson is a great idea. The more people who know about us and what we offer, the more people will come to Towson," he said.
The chamber app will cover a geographic area in Towson's core. Hafford estimates there are over 200 entertainment businesses in the area the app will encompass. In upcoming weeks, chamber staffers will go door-to-door talking to the appropriate businesses about inclusion in the app.
The chamber will also put out a print version with a map of Towson and the businesses in the app. Hafford said the print version will be available at the chamber office, library, jury rooms in the courts and farmers markets, among other places.
"You have a new movie complex in Towson, new and long-standing restaurants. Towson [University] and Goucher [College] have great sporting and culture events," said Hafford. "People can go to individual websites but we wanted to put together something that has it all."
Read more here