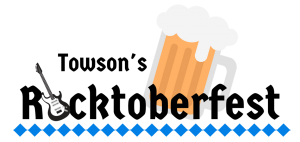 Saturday, October 14, 2017
11 am - 7 pm
Featuring local bands, unique food vendors, beer gardens, fall produce, art, crafted items, games, and more - this event will be fun for the whole family.
The event will take place in downtown Towson, Maryland surrounding the old courthouse on the following roads: Washington Avenue, Bosley Avenue, Upper Pennsylvania Avenue, and Upper Baltimore Avenue.
Towson Rocktoberfest is hosted by the Towson Elks Club #469 and the Towson Chamber of Commerce to raise money for The Elks National Veterans Service Commission. The Elks are committed to their mission, "So long as there are veterans, the Benevolent and Protective Order of Elks will never forget them." The Veterans Service Commission takes that pledge one step further, and promises service to the nation's veterans and military members, with a special focus on service to those in need.
Questions? Contact us!