Due to Covid-19 large gatherings are still not permitted. Feet on the Street is cancelled until we know more information.
Where All the Fun Happens in Towson!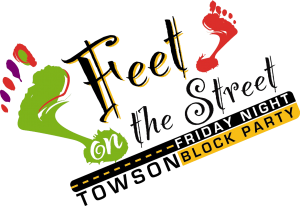 Come out to Allegheny Avenue and experience great weather, great music, and a great community. Our summer concerts feature local cover bands and have the crowd dancing all night .
Feet on the Street also features a bar with a variety of beers, wine, and cocktails as well as a moon bounce and face painting. Bring your friends and family for a fabulous Friday night!
Concerts are located on Allegheny Avenue from 6:30PM-9:30PM every Friday during the summer!
July
7/10: TBA
7/17: TBA
7/24: TBA
         7/31: Head Rush
August
8/7: TBA
8/14: Crushing Day
8/21: Jury
8/28: Sagamore
September
9/4: TBA
9/11: TBA
9/18: Crushing Day
9/25: Jury